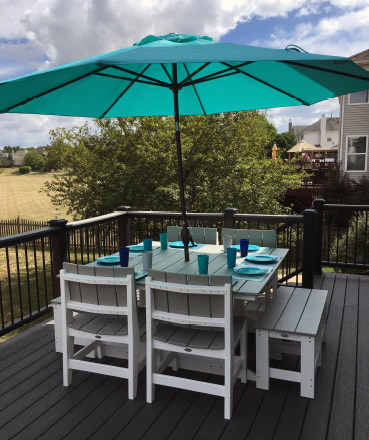 There are no better places than backyard fires and dinner tables to bring friends and family together for moment together. That is the inspiration behind Fire and Feast, we're here to furnish your needs for those special times gathering in the out of doors. Wherever that may be, the backyard, deck, patio, dock, or perhaps that shady spot under the family's favorite tree, Fire and Feast is here to furnish your outdoor spaces for years to come.
In addition to residential outdoor furniture and accessories, we bring custom and commercial ideas to life such as reclaimed and barnwood interior furnishings, as well as logo and brand themed projects.
At Fire and Feast we are commited to bringing you the best in poly outdoor furnishings. Often referred to as "resin" or "recycled " lumber, our line of outdoor poly furniture is in fact made from thousands of plastic bottles and containers that are repurposed into usable building materials. From there, our Crystal Lake, Illinois based craftsman go work in designing and creating for you furnishings and accessories built to last. Fire and Feast poly furniture is made from 90% post consumer waster, recycled HDPE (high density polyethylene) keeping thousands of tons of discarded plastics from landfills. Our HDPE lumber is also sourced from US based producers which has the added benefit of providing quality jobs to our neighbors in the manufacturing sector.
Thoughtfully Designed, Locally Made
Whether a stock piece, a customized item from our various lines, or a custom project designed just for you, Fire and Feast designs furniture to be handsomely styled with a focus on comfort, quality, and durability. Poly furniture will not rot or deteriorate, never needs painting or refinishing and is resistant to damage from the sun's UV rays. As low maintenance as outdoor furniture can be, Fire and Feast poly furniture can be left out and uncovered year round and only requires to be rinsed as part of a regular care routine. Because Fire and Feast designs and builds we sell, lead times vs. big box retailers is greatly reduced.