The Fire and Feast journey officially began in a garage in Cary, IL – late summer 2016, but the story began to be written generations earlier.

1903
The history of the Adirondack chair dates back to 1903 when Thomas Lee made an outdoor chair for his summer home is Westport, NY from a single plank of wood. Friend Harry Bunnell later patented the design and commericially produced these chairs, in the Adirondack Mountains of NY from hemlock, prompting the. name "Adirondack chair". These chairs became popular north of
the border shortly thereafter where the design is known as a "Muskoka chair".
1903
Fire and Feast co-founder Jeff Brown's maternal grandparents began spending summer months on Lakes Freeman and Shafer in north central Indiana, thus beginning that family's love of the water and shore for now four generations.
1930s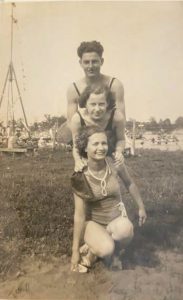 Fire and Feast co-founder Je Brown's maternal grandparents began spending summer months on Lakes Freeman and Shafer in north central Indiana, thus beginning that family's love of the water and shore for now four generations.
1940s
Fire and Feast co-founder' Glen Frank's mother's family is introduced to lake living in the Three Lakes region of Northern Wisconsin, setting the table for 3 generations to spend time together on both on water and the shore.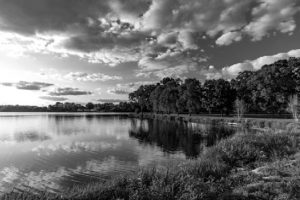 2000
Co-founders Glen Frank and Jeff Brown meet for the first time as they begin working together as middle school science teachers in Long Grove, IL. Both men continue to enjoy woodworking in their free time while teaching.
2001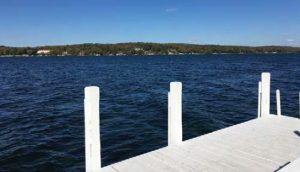 Jeff's in-laws begin summering in the Lake Geneva, Wisconsin area – at which time he is first introduced to the idea of "poly furniture". The home his in laws purchased was furnished with early poly Adirondack chairs.
2016
Glen and Jeff reconnected after their individual professional paths had diverged, all while individually pursuing interests in woodworking. After Jeff's young children returned to school in August, Jeff and Glen reconnected and began gathering for coffee at various northern and northwest suburban coffee houses in the Chicagoland area. The idea for what became Fire and Feast was born most notably at Hansa Coffee Roasters in Libertyville, and Conscious Cup Coffee Roasters in Crystal Lake.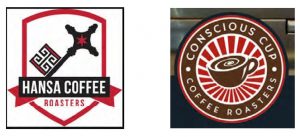 2016
Driven by an interest to create comfortable, durable, low maintenance furniture for the dock and shore, Glen and Jeff begin prototyping various designs and profiles for our first chair in Jeff's garage in Cary, IL.
2017
Fire and Feast is officially organized as a company, the name being adopted by Glen and Jeff as an extension of their life experiences on the lake, while enjoying fires on the lakeshore and dining outside with family and friends. The name Fire and Feast is symbolic of our mission to provide premium outdoor furniture so that others can enjoy meaningful time together with loved ones outdoors, whether it be on the dock, shore, deck, patio, or around the fire. Our first chair was subsequently named the "Fireside", with that product's prototype being completed in spring 2017.
2017
The very first two Fire and Feast Classic Adirondack chairs sold to customers on the 2017 Green Bay overlooking the harbor in Ephraim, Door County, WI.
2017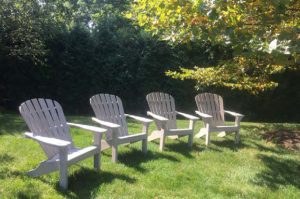 Fireside chairs seven through ten, delivered to Barrington, IL representative of our first two-toned offering. There was no turning back for Fire and Feast, we were off and running. Realizing that the garage did not present a feasible solution to keeping up with production, the search was on for our first commercial space.
2019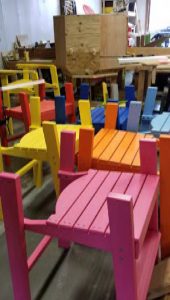 As our product line and reach grew rapidly throughout 2018 and. 2019, Fire and Feast was again faced with the realization that the current space was in fact too small and eventually cluttered
2020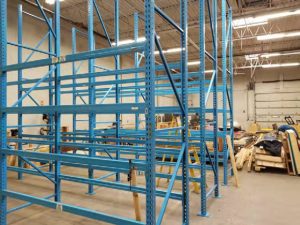 In February 2020, Fire and Feast again expanded and relocated to a new 5000 square foot workshop in Crystal Lake, IL. At that time, plans were also underway to open a modest retail showroom on location. Only weeks later, when the Covid 19 pandemic roared across the continent, our retail plans were put on hold and the future of Fire and Feast was in question. Throughout the spring, summer, and fall, like many other small businesses across the nation, we persisted, resolute to come out of this season stronger than ever. Despite severed supply chains and a massive back order on poly material, Fire and Feast answered the bell to meet the outdoor gathering needs of its' loyal patrons. Thank you to our loyal "chairholders" for the unwavering support throughout 2020!
2021
Stay turned for exciting new product offerings, an updated calendar as to where to find us as the ground thaws, and follow our journey on social media and the new blog beginning in spring 2021, Feast Road Chronicles. Visit our showroom at 7218 S Virginia Road, Suite A in Crystal Lake, IL beginning in March 2021. We're in the Aamco building behind Marianos!